About Us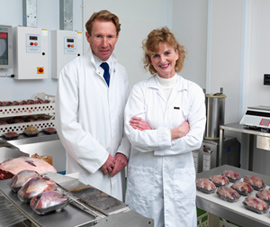 Tucked away in the heart of the rural countryside near Saffron Walden, is the 'Radwinter Wild Game Company' – a enterprise founded by the Kiddy Family.
They decided to provide a much needed outlet for local wild game, and converted a redundant grain store into a processing plant, at their farm, Radwinter Park, near Saffron Walden. Gilly is involved in all aspects of the business, but leaves the butchery to her expert Butchery Deparment, who have helped her to develop a comprehensive range of products, including Pigeon, Rabbit, Pheasant and traditional Venison Burgers, plus their very popular Sausages: Venison & Pork, Venison & Cider, Venison, Pork and Mushroom, Wild Poacher Sausage, Venison, Herbs & Garlic and their fantastic new Spiced Pigeon Sausage (a best seller!), not forgetting their 'Gamekeeper's Sausage'.
Their standards are high - honesty and quality are the values they trade on. Their customers are the general public, Butchers, Farmers Markets, Farm Shops, and local Restaurants and Pubs.
They have a superb purpose-built meat processing plant, designed by Jack Shewring (a specialist Consultant to the meat processing industry) in conjunction with Defra vets, and the local Environmental Health Officers.
The wild game is processed in accordance with the Meat Hygiene Regulations. The Venison is matured for seven days before cutting and small game is hung between 2 – 7 days.
The enterprise was officially opened by Jim Paice, Minister of State for Agriculture & Food on September 15, 2008.
Funding from the Rural Development Programme for England (RDPE), delivered by the East of England Development Agency (EEDA), made the new venture possible.